One of the nomad movement's leading voices reveals the past, present, and potential of borderless work. Brimming with insights, research, and interviews, Global Natives is a call to action for remote workers to see themselves as part of a shift toward a world of free movement, equality of opportunity, and global culture.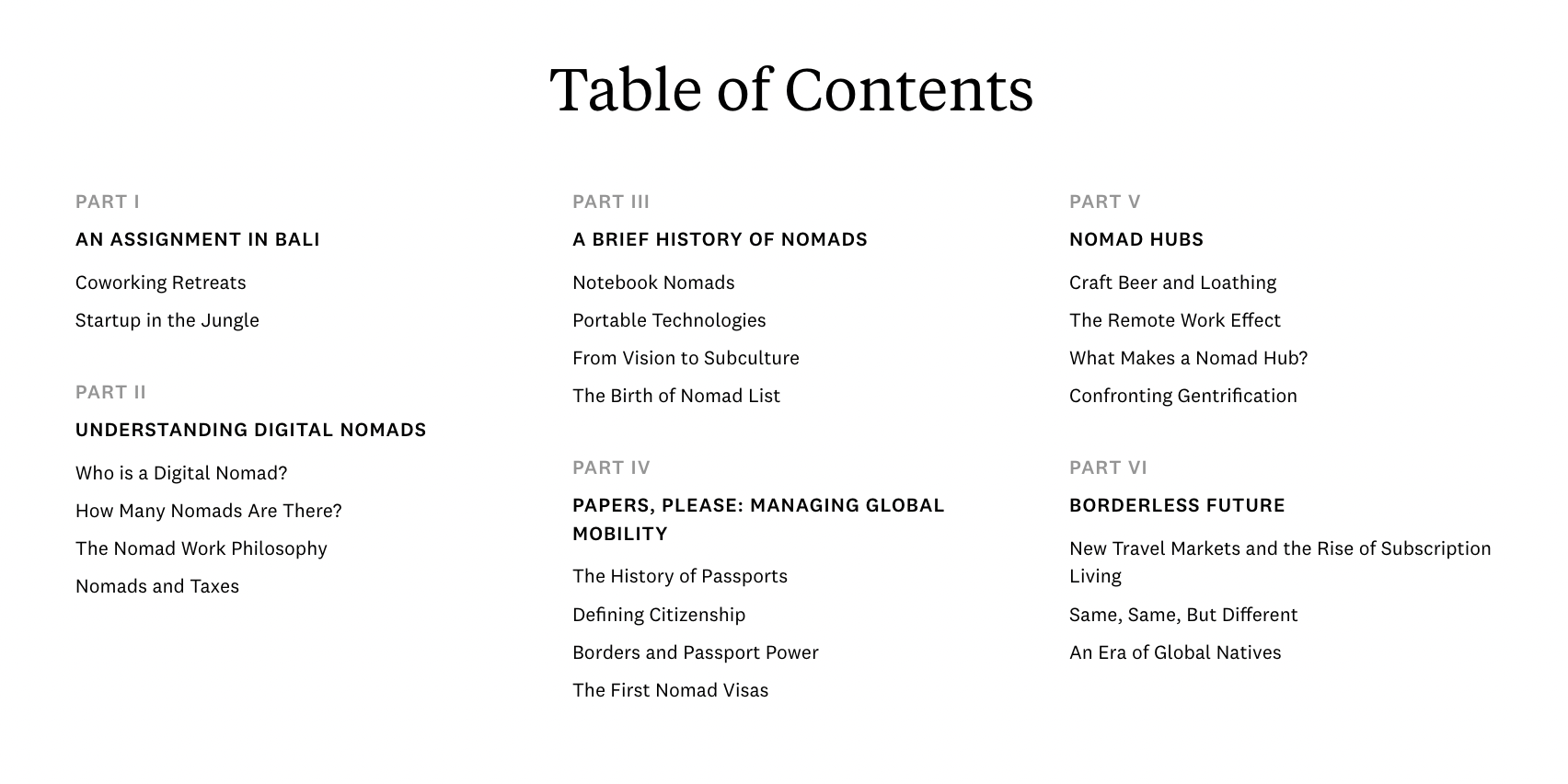 About the Book
What would a billion digital nomads—full-time or part-time travelers who work anywhere they can access the internet—mean for the future of work and global culture?
The idea of location independence is nothing new. As far back as the 1960s, sci-fi writer Arthur C. Clarke said people would be able to "work from Bali, just as well as from London" by the 2010s. Lauren Razavi was one of the early adopters who proved him right, building a life and career on the road. Today, she's one of the digital nomad movement's leading voices and activists. In her debut book, Razavi delves into the origins of digital nomads and the history of work from anywhere. She introduces us to the people, values, and ideas shaping a borderless world.
Global Natives is a vivid, thoughtful exploration of how technology has changed the human relationship with place. The rise of remote work, travel incentive programs targeting digital workers, and nomad visas mark both an enormous market opportunity, and a new philosophy of how work should fit into our lives, rather than life fitting around work. But the path forward is anything but clear. Remote work and nomad visas could be the beginning of an era of greater global mobility and equality of opportunity across borders. Or we could see ongoing border restrictions, increased scrutiny and deportations, and lost opportunities for both individual nomads and the modern knowledge economy.
This guide is essential reading for remote workers, entrepreneurs, business leaders, investors, and anybody else who cares about building a future of freedom, prosperity, and mobility.
Praise for Global Natives
"You've heard of 'digital natives'—now meet the 'global natives.' In this timely statement on our rapidly evolving world, Lauren Razavi captures where humanity is headed by confidently showing how the next generation is embracing a borderless, nomadic future." – DR. PARAG KHANNA, Author of "MOVE" & "The Future Is Asian"
"The greatest task we face today is to create global institutions that replace the obsolete national ones, and there is no one with more foresight, insight, and dedication to this cause than Lauren Razavi. Global Natives is the hidden story of our time. If you want a glimpse of the future, you should definitely read this book." – SONDRE RASCH, CEO & Co-Founder at SafetyWing
"This book is fantastic! It really helped me understand the history, context and nuances of the digital nomad movement. Lauren Razavi's writing is accessible and clear, and I feel like I've become way smarter by reading Global Natives." – ALI ABDAAL, Entrepreneur & YouTuber
"Lauren Razavi has a unique ability to see and express connections that others don't. This book is full of sharp insights and essential ideas for entrepreneurs and investors with an eye on the future of work, business, knowledge, travel, and human progress." – SARAH RONALD, Founder of Nile & Investor at Par Equity
"Global Natives is an impassioned defense of a way of life that is both newly emerging and rooted at the core of human nature. Lauren Razavi describes the lives and struggles of those who have traveled across the globe to fulfill their visions, and sets out the potential dangers that may wait in the future for this new tribe of digital wanderers." – PAUL COOPER, Podcaster at Fall of Civilizations
"Lauren can rightly call herself a true pioneer of borderless living. Combining a decade of first-hand experience with extensive research, Global Natives is a comprehensive guide to the work-from-anywhere movement and an increasingly borderless world. It's as timely as it is optimistic, thoughtful, and accessible." SHARON O'DEA, Founder at Lithos Partners
About the Author
Lauren Razavi is an award-winning strategist, activist, and speaker who has lived in more than 40 countries. A remote worker for more than a decade, she has held location-independent roles in the music, media, and software industries. Lauren currently works as Director of Special Projects at SafetyWing and Executive Director of Plumia, the moonshot mission to build an internet country for digital nomads. Her writing appears in Wired, The Guardian, and VICE, and she writes a free weekly newsletter, Counterflows, about remote work, digital nomads, and borderless living.